Souffle2Vie Guinea

Main goals
Souffle2Vie is a non-governmental organization supporting the development of neonatal and perinatal medecine in Conakry, Guinea, Western Africa.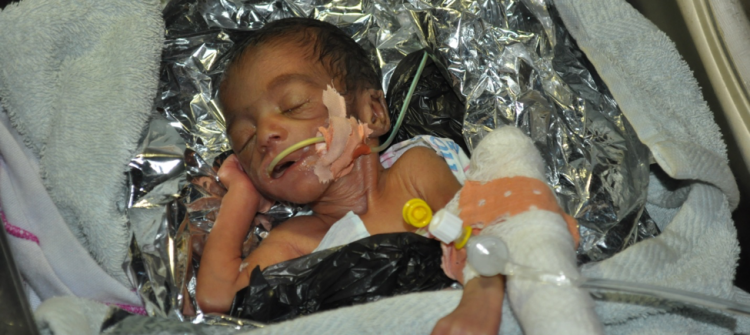 Brief description of the project
In close collaboration with the Head of the Pediatric/Neonatal Department of the University Hospital Donka of Conkary, the Medical Faculty of the University Gamal Abdel Asser of Conakry, UNICEF, WHO, and the Ministry of Health of the Republic of Guinea, Souffle2Vie aims to improve neonatal care and perinatal medicine in Guinea, with a focus on the University Hospitals in Conakry.
Souffle2Vie has a partnership with the University Hospital of Lausanne (CHUV: Centre Hospitalier Universitaire Vaudois). The CHUV has signed a formal collaboration with the University Hospitals and the Neonatal Clinic in Conakry. Teaching and training on a large, multidisciplinary level involving all segments collaborating in a university hospital including medicine, nursing science, bio-engineering, logistics, administration etc. will be developed. Furthermore, support for epidemiological research and technical reinforcement complement the large spectrum of collaborations.
In collaboration with the Guinean colleagues and funded by UNICEF, different neonatal resuscitation training programs have been organized for medical, nursing and midwifery staff of the university hospitals and different maternity wards in Conakry. The maternity wards of different health care structures could be equipped with life-saving self-inflating bags and masks, aspiration tools and further practical teaching kits. At the neonatal tertiary center in Conakry, transcutaneous oxygen saturation devices were introduced.
In May 2017, the construction of a new neonatal unit with a national training center for health care professionals was started in collaboration with all the aforementioned partners on the campus of the University Hospital of Donka in Conakry
Contact information
Prof. Matthias Roth-Kleiner, MD
Clinic of Neonatology
University Hospital and University of Lausanne
Switzerland
info@souffle2vie.ch
matthias.roth@chuv.ch
Financial support
Private donations.
Website
---