Welcome to the Swiss Society of Neonatology
After more than 24 years of regular meetings of the Swiss Neonatology Group, the Swiss Society of Neonatology was founded in 1995. The society's goals are to foster neonatology in Switzerland, improve the quality of neonatal care and represent the interests of newborn infants in the public.
---
Case Reports
After more than 20 years of monthly publications of Cases of the Month, the SSN continues to publish interesting and well illustrated case reports on an irregular basis. Subscribe today and stay informed. You can also submit cases of your own!
---
Annual Meetings of the Swiss Society of Neonatology
---
Looking back at the 2020 meeting in St. Gallen

The 2020 Annual Conference of the Swiss Society of Neonatology covered various topics related to neonatal nutrition. Young pediatricians and neonatologists as well as nurses, midwives and obstetricians actively participated and presented their research.
---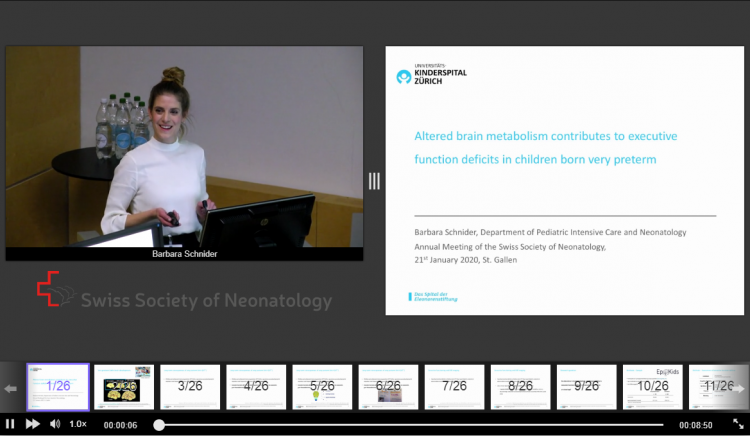 ---
Webcasts and Abstracts 2020
Update on Neonatal Nutrition
---
2020 Awards of the Swiss Society of Neonatology
3rd Annual Humanitarian Neonatology Award - Janine Thomann (Zurich)
Activity: Neonatology Asmara (Eritrea)
Fred Bamatter Award 2019
Dirk Bassler (Zurich)
Research area: Evidence-based approach to bronchopulmonary dysplasia
Martin Stocker (Luzern)
Research area: Medical education and antibiotic stewardship
Best short presentation - Manya J. Hendriks (Zurich)
Perinatal palliative care services and needs of health care professionalsworking in Swiss perinatal centers - a nationwide study
Best poster presentation - Andrea Peitler (Zurich)
Large congenital hemangioma causing significant cardiac and respiratory insufficiency
Case of the Year Award 2019 - Thomas M. Berger, Hermann Winiker (Luzern)
Irreversible intestinal failure - how would you decide?
---
Next Meeting
2022 in Biel - save the date!
Due to the Corona pandemic, the 2021 Annual Meeting had to be cancelled. The 2022 Annual Meeting of the Swiss Society of Neonatology will take place in Biel on May 24 and will address prediction and support of neurodevelopment in infants at risk.
---
Past Meetings
Starting in 2017, the presentations have been recorded and are made available as webcasts.
Webcasts and Abstracts 2019
Challenges in Perinatal Medicine
Webcasts and Abstracts 2018
Hot Topics in Neonatology
Webcasts and Abstracts 2017
Challenges in Perinatal and Neonatal Infectious Diseases